Specification
Customized Enameled Aluminum Wire
Customized Enameled Aluminum Wire
is usually determined by the following elements.
Conductor type: conductor is the basic material of enameled wire, and many characteristics are determined by conductor. Common conductors are copper, aluminum,copper silver, copper tin, copper nickel, copper zinc and other alloy materials. The conductor is the main point of
customized enameled aluminum wire.
Size: the nominal value of the size of copper round enameled wire refers to the conductor diameter of enameled wire.
Type of insulating paint film: refers to the type of basic insulating material at the bottom layer, usually Pu, PE, Pei, Pai, PI.
Type of composite paint film: refers to the type of surface insulation material of composite coated enameled wire, commonly used are Pai, nylon, self-adhesive paint, etc.
Film thickness: refers to the thickness of the insulating layer. NEMA mw1000, JIS C 3202, IEC 60317 standards classify and define the film thickness, and customers usually have their own special requirements.
Heat grade: refers to the heat resistance level of enameled wire. Temperature index, softening breakdown, thermal shock and other temperature data defined by NEMA mw1000, JIS C 3202, IEC 60317 are displayed, with class 130, 155, 180, 200, 220, 240.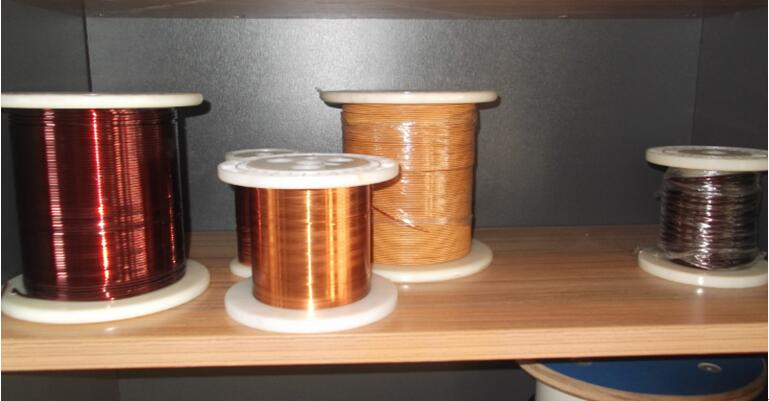 Color: for processing convenience, enameled wire can be colored, usually natural color, red, green, blue and brown
Lubrication: in order to ensure the smooth wire arrangement and setting out, enameled wire is usually coated with different kinds of lubricants suitable for application. It is very important to accurately control the content of lubricating oil to meet the product requirements of customers and ensure the winding performance. Special applications require a lubricant free internal lubrication line.
Stranded wire: stranded wire refers to several enameled wires twisted together according to a certain structure, usually with silk wrap, Mylar, extruded outer layer. Strand can effectively reduce the "skin effect" and is widely used in high-frequency instruments.
The stranded wire is determined by the number, distance, direction, structure and specification of single wire.
Flat wire: the conductor of the flat wire is shaped into a flat shape relative to the round wire. In addition to the above elements, the size of the flat wire is determined by the thickness and width.
Alloy wire: alloy wire is a kind of enameled wire with alloy as conductor, mainly including copper silver, copper tin, copper nickel, copper zinc, etc.
Size and technical data of
customized enameled aluminum wire
: refer to IEC 60317, NEMA MW 1000 and JIS C 3202 for detailed size and technical data. In fact, each customer has its own technical know-how, special process and working environment. They usually have special requirements for the size and technical data of enameled wire different from those of these standards. Signi aluminum will understand the special requirements of customers and provide them with products that meet the requirements.
Henan Signi aluminum industry specializes in the production of various specifications of insulated aluminum wire. According to the requirements, we can make various kinds of
customized enameled aluminum wire,
different alloy, wire diameter, color, film thickness, insulation grade, etc. welcome customers from all over the world to inquire and order.